After 3 years in the making, our baby 'No Simple Way Home' made history as the FIRST South Sudanese film to premiere at the Berlin International Film Festival on the 14th of February at Kino International Cinema, Berlin.

The film was spearheaded by dir. Akuol de Mabior and producer Sam Soko. One of the most special moments from the premiere was reuniting with fellow Producers from Generation Africa on the red carpet. Fellow producers Don Edkins and Tiny Mugwe put together the series that raises questions about youth and new narratives on migration in an African context.
Production began in August 2019 right up to 2021, in what proved to be an incredibly collaborative effort from South Sudan, Kenya, and South Africa. A special shout out to the powerhouse women on the team, including cinematographer Emma Nzioka, location sound recordist Josephine Obudo, production manager Ivy Kiru, and line producer Ruth Munyiri, editor Angela Wamai, Assistant producer Bérénice Hahn and one of the producers Tiny Mugwe.

No Simple Way Home is a co-production with ARTE France and couldn't have been what it is without the invaluable support of the Whickers, Doc Society's New Perspectives, IDFA Bertha, Arte, Docubox, Doc A, Good Pitch, Bertha Foundation, DW Akademie, German Federal Ministry for Economic Cooperation and Development (BMZ), Bosch Foundation.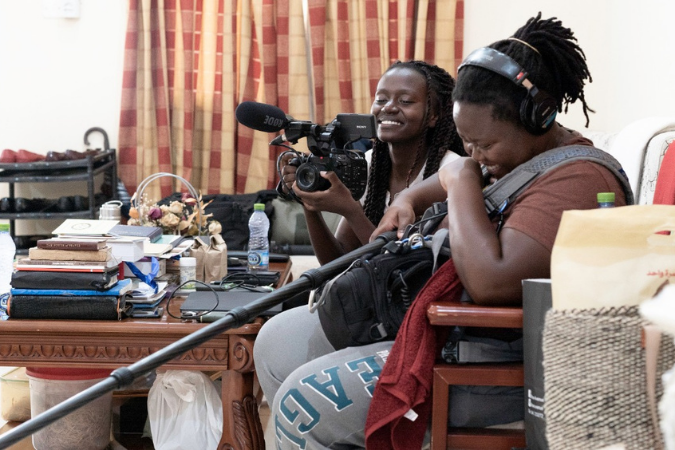 No Simple Way Home Crew: Emma Nzioka, Cinematographer and Josephine Obudo, Location Sound mixer on set
We also applaud Ike Nnabue's film, 'No U Turn,' also a Generation Africa film that premiered at the Berlin International Film Festival. With "No U-Turn" (Nigeria / France / South Africa), Nollywood filmmaker Ike Nnaebue retraces a journey he made 26 years ago when he left Nigeria as a young man to try and reach Europe by road. He meets those who are taking the same trip today to search for a better life and, through conversations with them, tries to understand the aspirations of young people in West Africa.

Susanne Schüle, member of the jury for the Berlinale Documentary Film Award, honored him with a Special Mention for outstanding performance.
"We give the Special Mention to a film that sensitively gives voice to the people of Nigeria who find themselves in a state of perpetual transit in their desperate search for a future worth living. We're delighted with Ike Nnaebue and his team from 'No U-Turn',"
said Schüle.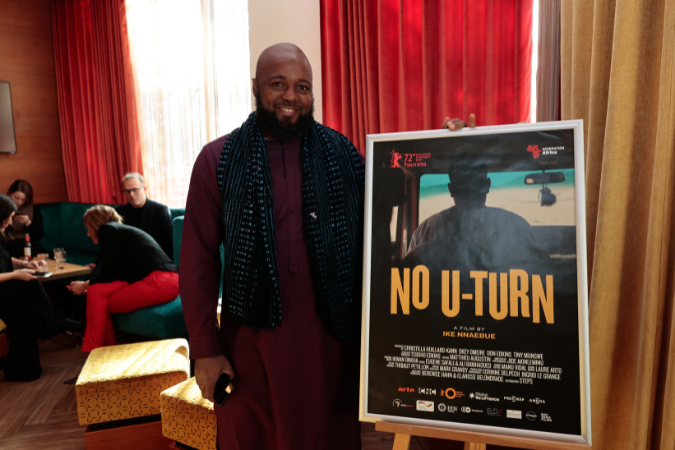 Ike Nnaebue - Director, No U-Turn
We are so grateful for the support and love we have received. We can't wait to share No Simple Way Home with more audiences. In the mean-time, follow the film on social media for real time updates.